Saturday, April 3, 2010, 04:24 PM -
Lenses
After a couple of years with my Soligor 21/3.8 lens (the same lens is also available under the Vivitar brand), I bought a modern 21mm in order to know what I could expect from 30 years of improvements on wide angle lenses.
My 30 years old 21/3.8 Soligor lens (in T4 mount, used with an m42 adapter)...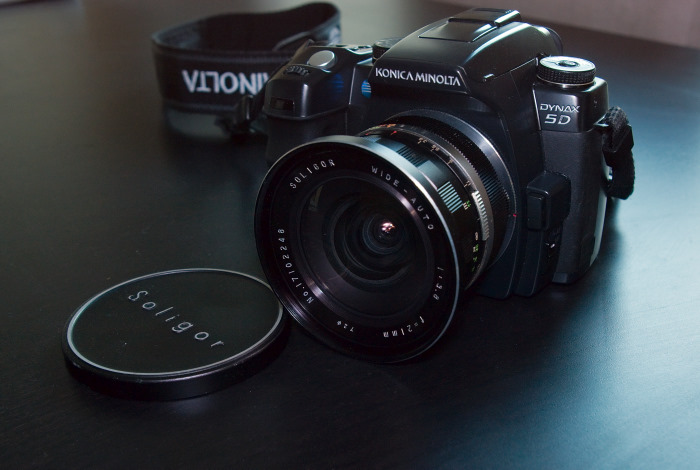 ...and the newly designed lens, SMC Pentax DA 21mm F3.2 AL Limited: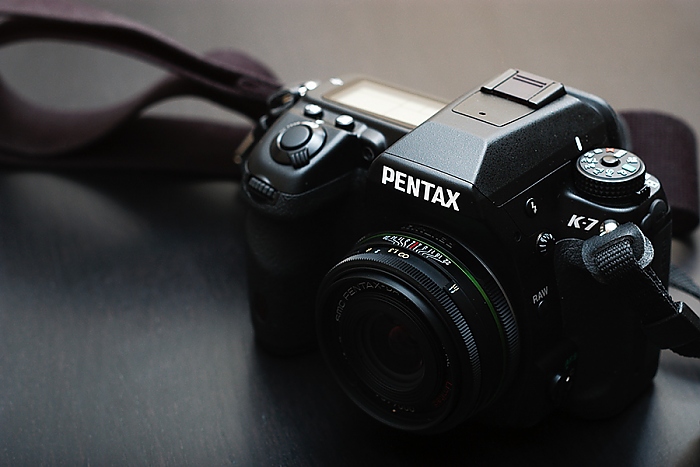 Pros of the Vivitar/Soligor lens:
*Universality: As a T4 mount, it can be used on any camera able to use m42 lenses, but also on Nikon SLRs. The Pentax, on the other hand, is a K mount lens which can only be used on Pentax SLRs/DSLRs. Moreover, the Vivitar/Soligor is a full frame lens, while the Pentax one is an aps-c only lens.
*Very low distortion. The Pentax lens has some slight barrel distortion that can be easily corrected in software, but that implies a new processing step within the workflow.
*Low vignetting. The Pentax lens exhibit noticeable vignetting when used wide open (but it nearly vanishes by f/4).
*The focus ring: The very long focus throw of the Soligor lens is significantly easier for manual focusing or prefocusing. The Pentax focus throw is only about 1/8th of a turn. The focus ring of the Pentax lens is very tiny, while it is comfortably large on the Vivitar/Soligor.
*Aperture ring: There is simply no aperture ring on the Pentax lens.
*Price: A second-hand Pentax 21/3.2 is priced between 4x and 6x the price of a second-hand Vivitar/Soligor 21/3.8.
Pros of the Pentax lens:
*Size and weight: The Soligor lens weights 380g against 140g for the Pentax one. The Vivitar/Soligor is using 72mm filters, while they are 49mm on the Pentax lens (or 43mm if you put the filter inside the provided lens hood).
*Flare: The Pentax lens is significantly more flare resistant (but it still flares a bit)
*Chromatic aberrations: CA are significantly lower on the Pentax lens.
*Sharpness: This is a strong point of the Pentax lens when compared to the Soligor/Vivitar lens. Moreover, corners are significantly less sharp than center untill f/11 on the Vivitar/Soligor, while there is much less difference between center and corners on the Pentax lens. That being said, when compared to other prime lenses, the 21/3.2 AL Limited is not a very sharp lens.
Similar between the two lenses:
*Build quality. The Pentax lens features a metal body, including the front cap and the lens hood. Marking on the lens are engraved before being painted, and overall build feels quite sturdy. It's similar to the Vivitar/Soligor lens (as 30 years ago a sturdy metal lens was the norm).
Back
Next