Since about 2 years ago, I am using a KM5D, and lately, I mostly switched from AF lenses to MF lenses. However, our current viewfinders are not that good for manual focusing, compared to pre-AF area film SLRs.
Sure, an a700 features a bigger viewfinder, but I did not felt like spending that much money for such an upgrade. There are many things that are way better on the Sony a700 than on the 5d, but many are not really relevant to the way I'm shooting. I looked at possible alternatives (including K10D and K20D), and after a long evaluation, I finally selected what was (to me) the best choice right now: going Nikon.
I ordered a Nikon DK-21M, which is a magnifying replacement eyepiece, featuring a 1.17x magnification, and put it on my Minolta 5D.
*Does it fit?
Yes, it fits. Nikon eyepiece is about 2mm larger than Minolta's one, but I did not noticed any particular lateral play with this combination. I also tryed it on a Pentax DSLR, and it's a perfect fit.
*What about eye sensor?
Yes, that is a problem. Minolta/Sony eyepieces are cut at the bottom to accomodate for the eye sensor, while Nikon eyepieces are covering the 4 sides. The DK-21M being a bit bigger than a Minolta eyepiece, you can put it on the camera withoout pushing to the very bottom, allowing the eye sensor to still work. I will perhaps have to put a kind of rim within the alternative eyepiece to ease this.
The results:
* Viewfinder is significantly bigger. 5d is 0.83x magnification, so it's now 0.97x. As a comparison, a 7D or a700 is 0.9x.
*My manual focus accuracy is greatly improved. Now my focus is most of the time spot on, as confirmed by the AF sensor. (I have an af-confirm m42 adaptor)
*Viewfinder is just a bit dimmer (half a stop?).
*DK-21M requires a diopter adjustment. Beware of this if you are already using the maximum diopter adjustement.
*With eye glasses, I am unable to vew the whole picture, because of the reduced eye relief. Fortunately, I can still shot without my glasses.
The unexpected part: DK-21M is the eyepiece magnifier. It comes with a tinny rubber eyepiece (DK-16) glued on it. This eyepiece is likely the most uncomfortable one ever made! As it's rubber only (no hard/solid part), you can gently unglue the DK-16 from the DK-21M, using only your fingers.
I ordered a replacement eyepiece (DK-20), and put it on the DK-21M.
Overall, I am very pleased by the result. That is probably the best price/benefits upgrade I could have for my 5d. As it's very cheap and totally reversible, I'd encourage any manual shooter (without eye glasses) to try this.
Stock Minolta/Sony eyepiece: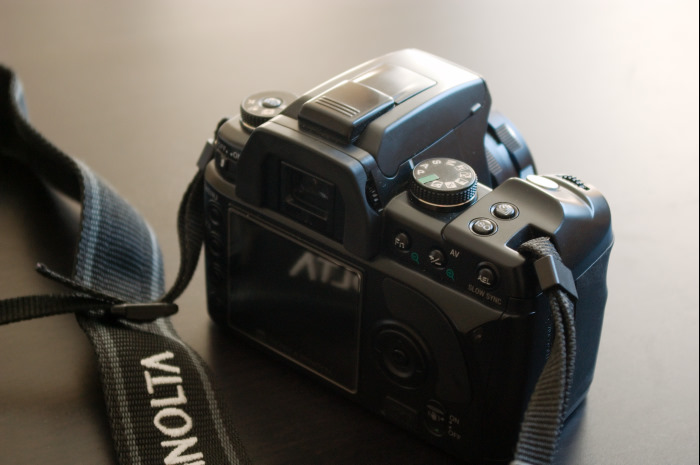 Nikon DK-21M eyepiece magnifier: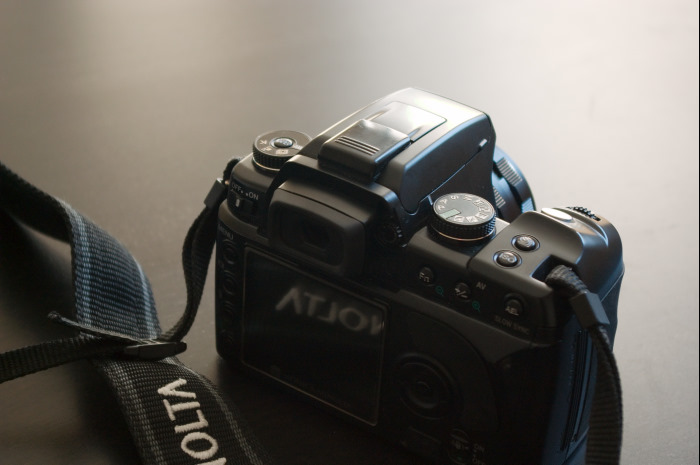 Nikon DK-21M eyepiece magnifier with DK-16: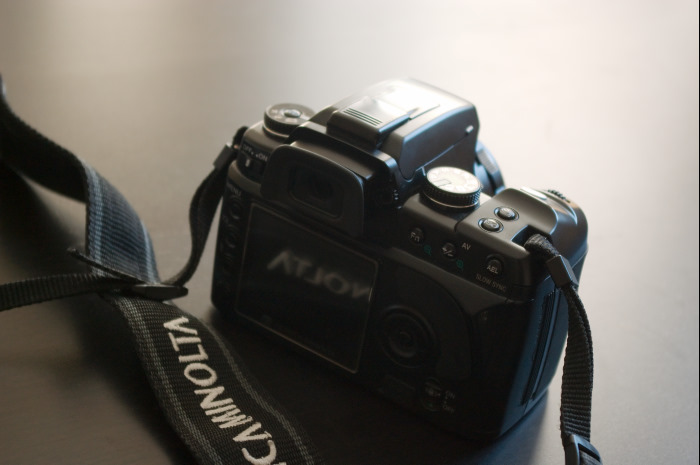 Back
Next